Larry has over 25 years of practical experience assisting clients who believe employee involvement creates commitment… the key to achievement. His background in management, advertising, public relations, consumer research and new product development has given him unique insight on what it takes for success in the marketplace. Here he shares some of this knowledge. Just click on Customer Focus Planning, Getting to Teamwork and/or Visioning above.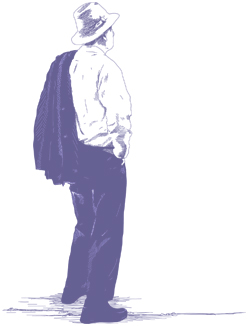 Larry Smith's business career has been one of service to a rich variety of companies in the fields of marketing, advertising, consumer research, new product development and the facilitation of strategic planning, team building and empowerment.
     He served as Executive Vice President of Dancer, Fitzgerald, Sample Advertising's San Francisco office in the early 1980s where he shared administrative and client service duties. He headed the new business solicitation and training activities of that agency. His clients benefited from extensive experience in new product invention and introduction.
     He spent seven years directing marketing and client services for a new product "think-tank," Swanson & Associates, based in his hometown of Minneapolis. This organization utilized a unique interdisciplinary approach to new product development working successfully for clients such as Borden's, General Mills, Star Kist, Green Giant, Hunt-Wesson, Crown Zellerbach, Libby, H.J. Heinz, Schlitz, General Foods and Ore-Ida.
     He founded his consulting practice in 1985 where he serves as a Management Team Facilitator helping companies develop long-term strategies and short-term action plans. His interest is in helping his clients become empowered organizations which lead to high performance teamwork and improved productivity.
     Larry is a University of Minnesota graduate where he was Student Body President his senior year. He served as President of the Tiburon Peninsula Foundation from 1995 to 2005. He is a former Councilman and Mayor of Tiburon, California where he has resided for over 30 years, until he recently moved to the foothills of the Sierras. He was Tiburon's "Citizen of the Year" in 2001.
     He and his wife, Diane, have raised three children and enjoy their new roles as grandparents to four boys and three girls. Larry is an avid wilderness-canoeing enthusiast. He is also a skier, sailor and gourmet cook.

Learn from the geese:
As each goose flaps its wings upward, it creates "uplift" for the bird following. By flying in a "V" formation, the flock adds a 71% flying range beyond any one bird's ability to fly alone.
Whenever a goose falls out of formation, it suddenly feels the drag and resistance of being separate. It quickly gets back into formation in order to take advantage of the lifting power of the bird immediately in front.
When the lead goose gets tired, it rotates back into formation, and another goose flies at the point position.
The geese in formation honk from behind to encourage those up front to keep up their speed.
Larry's Business Ethics/Values
• Earn Trust by always being honest and honoring every commitment
• Care deeply about my clients' success in the marketplace
• Pursue learning that will benefit my clients
• Keep honing my facilitation skills
• Foster long-term relationships
• Require sponsorship of my services by the CEO
• Measure my success by my clients' improved productivity